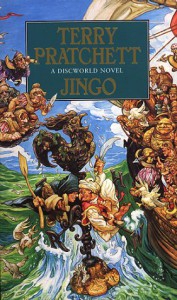 Series: Discworld #21
The island Leshp rises from the sea, kind of like an anti-Atlantis, and both Klatch and Ankh-Morpork try to lay claim to it. There's a real risk of both countries going to war and Commander Vimes is investigating the attempted assassination of Prince Khufurah. This doesn't explain this book or what I liked about it, but that's difficult to do without quoting half the book. It's a commentary on war with layers upon layers of jokes, and it's one of my personal favourites from the Discworld series. There's the Watch with Vimes, Carrot, Cheery, Detritus, and Angua as well as a larger than usual role for Vetinari although he still manages to put one over everyone (surprise, surprise).
I read this for booklikes-opoly square Frontierland 4 "Read a book where a character travels by boat" since as well as being next up in my Discworld reread, Vimes and others travel by ship over the sea while others (spoilers!) travel by boat under the sea. There's an unusual amount of travelling by boat for a Discworld novel considering the Unseen University sculling team races by running on the river Ankh while carrying their boat (I forget what they call the sport because it's not described in this book).
At 406 pages of text (414 pages minus the 8 pages before the book properly starts), this grants me another $5 for my bank, bringing my total to $87.
Previous update: 184/414 pages